12th ANNUAL FREEDOM RUN 5K - Thursday, August 8th, 2024, 1830 hrs.
Special Items Available
We'll have some tees from past years and commemorative mugs for sale at Packet Pick-Up. They make great gifts!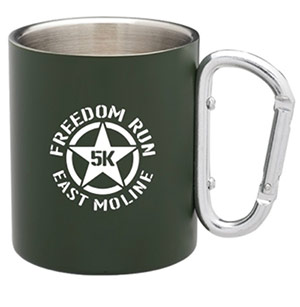 Message from the Race Director
Presented by UnityPoint Health Trinity

This event is all about our local Military and their families - they've all sacrificed so much for us. You don't have to run, you can walk, you can watch, you can cheer, you can sponsor and you can volunteer! However you decide to participate, you're going to have fun!
From the authentic Civil War Cannon used to start the race, to the "dog-tag" medals the real soldiers will place around your neck at the finish line, this unique event is "military" from start to finish. The WWII Army jeep as the pace car, the various military vehicles throughout the course, the 100+ volunteers holding American flags along the course, the camo-netting over the refreshments area, the unique military style tee shirts each participant will receive, the 'soldier statue' trophies, this event will be 100% military feel. We know you're in for a very special experience!
More than anything though, the Trinity Freedom Run 5K is about our American Heroes in the Army, Coast Guard, Marines, Air Force, and Navy – joining together in the spirit of camraderie and community. It's a chance for the troops to extend the military 'esprit de corps' and civilians to thank them for their support, to say thanks simply by participating.
People run, walk, or roll in the Freedom Run for many different reasons. Some are trying to break records or achieve personal bests. Some come in memory of parents or grandparents who spent their careers in the military, or of loved ones who lost their lives in the line of duty. Many are honoring sons, daughters, brothers, sisters, or mothers and fathers who are in the military today. Others come to salute America's injured soldiers who participate in the 5K and demonstrate for all the true spirit of "soldiering on". And hundreds of others will come to simply thank the men and women of the US Forces for all they do at home and abroad.
Thank you for supporting our Military, for serving in our Military, and for helping our event show our appreciation with your participation.
Respectfully, Joe
Joe Moreno - Race Director, Trinity Freedom Run 5K